Event Details

Discover Tectoria is a one-day exposition of more than 70 Greater Victoria technology firms and research agencies including a:
Tradeshow
(local companies demonstrating products, hiring staff, or co-ops)
Video Game Lounge
(local companies allow you to test drive their inventions)
Startup Alley
(get a sneak peek at the future of Tectoria)
Research District
(see some amazing projects post-secondary students have put together)
Innovation Theatre
(a line-up of great talks and panel discussions)
Combustion Chamber
(Science demos for the kids!)
It's an event for everyone* and it's FREE to attend! No need to register.
*Everyone = Students (of all ages!), parents, job seekers, media, investors (The Capital Mission is in town at the same time), government officials and more!
Due to the success of Discover Tectoria 2016, this event will now be held every year in February. February 24th is also a tri-city Pro-D Day again, so students don't have to rush off!
EXHIBITORS
MAIN FLOOR:
The main floor of the Crystal Garden will be filled with exhibitors showcasing their companies and looking out for potential employees or co-op students!
Each 8 'x 10' booth comes with: WiFi, power, table, chairs and draping.
To be an Exhibitor you must be a technology company based in Greater Victoria or Up Island. Click here to view the info pack and floorplan.
**Sign in and select your booth type below!**
Want to exhibit your Service Company? Become a Sponsor! Please see the next tab.
UPPER LEVEL:
On the second floor there are 3 reserved exhibiting areas. If you're interested in one of the following areas, please contact Tessa at tbousfield@viatec.ca (these spaces are on an approval basis).
Video Game Lounge (Video game companies only)

Cost: Same as Single Booth prices below

Startup Alley (Tech startups only)

Cost: $100 (Tech Startup Members)
Cost: $200 (Tech Startup Non-Members)

Research District (University projects)

Cost: Free (Must be invited)
LATEST FLOORPLAN:

SPONSORS
Discover Tectoria attracts students (of all ages!), parents, job seekers, media, investors, government officials and more. Discover Tectoria 2016 saw over 3500 attendees fill the Crystal Garden!
Seeing as there are so many demographics in one room, it makes it a prime sponsorship opportunity. Click here to view the info pack and floorplan.
WHAT'S IN IT FOR MY COMPANY?
Access to a huge audience for 7 hours at the Island's largest tech expo
(Opportunity to make new connections and sales leads)

Showing your support for Victoria's Technology Sector

One 8' x 10' booth package

Your area being named after your company

Logo placement in all conference materials including a recap video

Support acknowledged in advertising and press releases

Link to your web site from the event page.
Contact Tessa at tbousfield@viatec.ca if you are interested in one of the following sponsorships and would like more info:
Are you a VIATEC Member? You get a discount off the sponsorship prices below! Company Member: 20% off, Sustaining Patron: 30% off, Community Builder: 50% off
Video Game Lounge Sponsor: $6000+gst
Innovation Theatre Sponsor: $5000+gst
Combustion Chamber Sponsor: $5000+gst
Startup Alley Sponsor**: $4000+gst
Research District Sponsor**: $4000+gst
Exhibitor Lounge Sponsor**: $2000+gst (Does not include a booth)

**First right of refusal rule is in place from 2016. Please contact Tessa to be next in line!
---
Sponsorship Contact:

Tessa Bousfield, Marketing & Events Director
tbousfield@viatec.ca
ATTENDEES
SCHEDULE TBA...
Discover Tectoria is FREE to attend! Come by the Crystal Garden on February 24th any time between 11am and 6pm to access the main floor tradeshow, upper floor Video Game Lounge, Startup Alley or Research District. There will also be scheduled talks in the Innovation Theatre and Science demos in the Combustion Chamber.
#DiscoverTectoria
Discover Tectoria 2016 was a HUGE success! This was the first time VIATEC held the event in February during a tri-city Pro-D Day and it was so well received, VIATEC is repeating the date... every year instead of every two!
Discover Tectoria 2016 Recap Video by Riptide Studios:
(Click below to be redirected to Vimeo)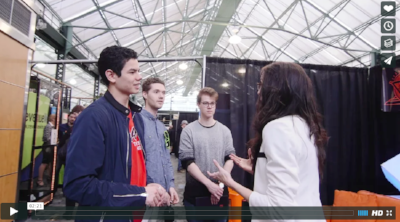 Discover Tectoria 2016 Image Gallery by Dean Kalyan:
(Click below to be redirected to Flickr)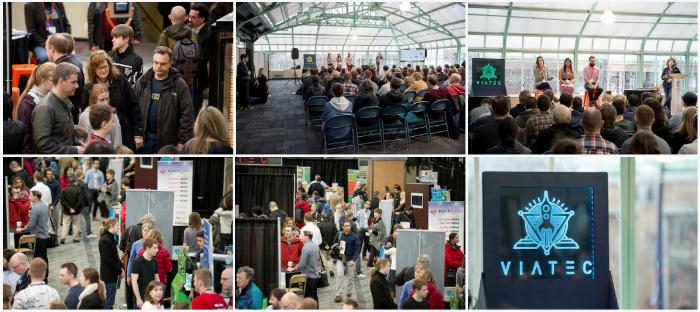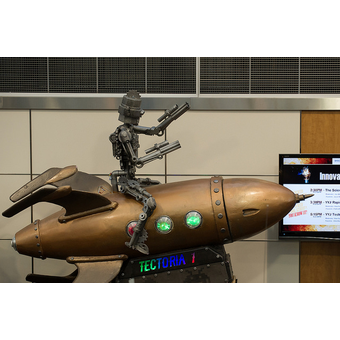 713 Douglas St, Victoria, BC V8W 3M6, Canada