With record-breaking attendance of over 5,000 innovators, strategists and academics, the B.C. Tech Summit proved just how unified the province's entrepreneurs are.
"The sold-out #BCTECH Summit underscored the dedication, passion and success of B.C.'s diverse technology innovators and entrepreneurs across the province," said Amrik Virk, Minister of Technology, Innovation and Citizens' Services.
"Our #BCTECH Strategy is driving momentum, helping B.C. technology companies grow and create jobs throughout the province."
B.C.'s technology workforce is one of the largest in the country encompassing 101,780 jobs equaling a 2.9 per cent increase last year. The booming sector has also created over $26 billion in revenue and $15 billion in GDP.
This year's #BCTECH Summit was filled with a palpable desire for innovators to connect and share their stories about perseverance, determination and tenacity. From JB Straubel, Co-founder and CTO of Tesla to Tanmay Bakshi, 13-year-old IBM Cloud Advisor with a resume that also includes software developer, cognitive developer, IBM Watson developer, author and YouTuber.
"Innovation means filling the gap for programmers," explained Tanmay Bakshi in his keynote speech, emphasizing a need for more kids to learn to code with specialized programs and resources.
"It's about how the youth can get involved in technology, why they should get involved in technology, and of course, the present and future of technology, which is — beyond doubt — artificial intelligence," said Bakshi.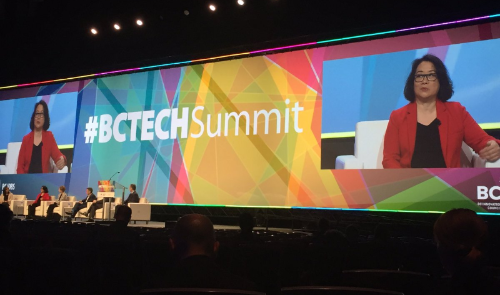 Premier Christy Clark also unveiled a major announcement that the provincial government will deliver a series of initiatives to boost the tech sector including a $10 million program to fund five research chairs at universities and colleges.
In addition, an expansion of tax credits will help support the abundance of virtual reality and augmented reality companies gathering momentum.
"When others are withdrawing from free trade, we are going to reach out around the world and find new connections, for business and for people," said Premier Christy Clark.
The mission is to cultivate and nurture talent worldwide, with a clear assertion that British Columbia's doors are open to educated foreign technology employees.
The importance of building strong teams through beneficial partnerships was a central theme to the summit and in the conversations that arose.
These conversations between innovators, visionaries and strategists at the #BCTECH Summit play an undeniable role in shaping the future of the technology sector in the province. The dynamism sparked by the exhibitors and speakers provided a positive platform to ignite collaboration between all those hoping to accelerate the growth in B.C.'s tech sector.
Photonic Public Relations Inc: We are a unique agency that offers public relations, strategic marketing, advertising and business consulting integration for ambitious professionals. We create high-impact strategies grounded in research to differentiate your brand from its competitors to break into new markets, maximize exposure and increase revenue. We take the time to listen to what makes you unique, providing you with the plan and execution to build the scale, reputation, and reach of your organization.
Contact:
Gina Wicentowich, Digital Marketing Strategist
gina.wicentowich@photonicpr.com
---