Source: CHEK News
New numbers from Statistics Canada show the jobless rate in Canada moved up in July, as the economy shed more than 31,000 jobs, but BC, and Victoria in particular, are bucking the trend.
The Capital Region's unemployment rate was now the second-lowest in the country last month, at 4.7 per cent, bolstered by job growth in tech, government and retail.
VIATEC CEO Dan Gunn said the Statscan figures showing 5,000 more people working in science and tech in the Capital Region, could actually be low.
"You have new companies starting everyday and they're growing fast so the reporting can be slower than the actual reality," he said, adding that Statscan's labour force survey also fails to account for contract and freelance workers who make up a large part of the tech workforce.
And there was at least one surprising stat.
While the Canada Mortgage and Housing Corporation just reported the region saw housing starts reach a 15-year high through the first six months of 2016, the number of people working construction in Greater Victoria is down, with 2,700 fewer workers than in July 2015.
BC's Construction Association president Manley McLachlan says it's not for lack of demand.
"There's lots of rationale for it. I would say that there's still a huge demand, we know that, and I think the fact there's 2,700 fewer people working here today, they're probably working somewhere else," he said.
"I'd suggest look up-Island, the John Hart dam is going strong, two hospitals under construction, lots of private sector work.So it's a bit of an anomaly."
At GT Hiring Solutions, Christine Willow says its also a case of demand outpacing supply, as the construction sector is just one of the industries looking for help finding workers.
"Companies like Labour Unlimited are coming to us and saying we will come and pick up the people and drive people to the site," she said.
And she says from skilled workers, to entry level jobs in kitchens, employers are having a hard time filling openings across the board, leading to plenty of opportunity for anyone looking for work.
"There are very few sectors where I could say they're not looking for people … I think now with 4.7 per cent unemployment, there are employers who are perhaps willing to make some concessions and do on the job training as well."
But with unemployment higher for younger workers, McLachlan said it's never been a better time for young people to consider building trades.
"We know we have retirements coming, two out of every three construction workers [in BC] is over the age of 45," he said. "Those jobs will need to be filled, there's huge opportunity."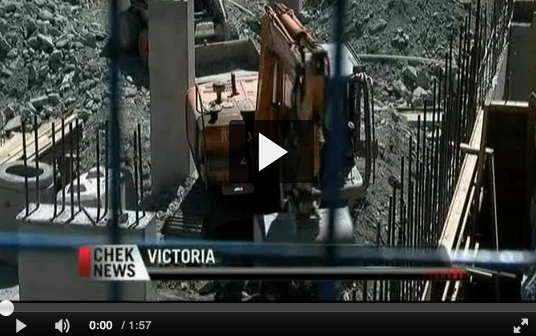 ---