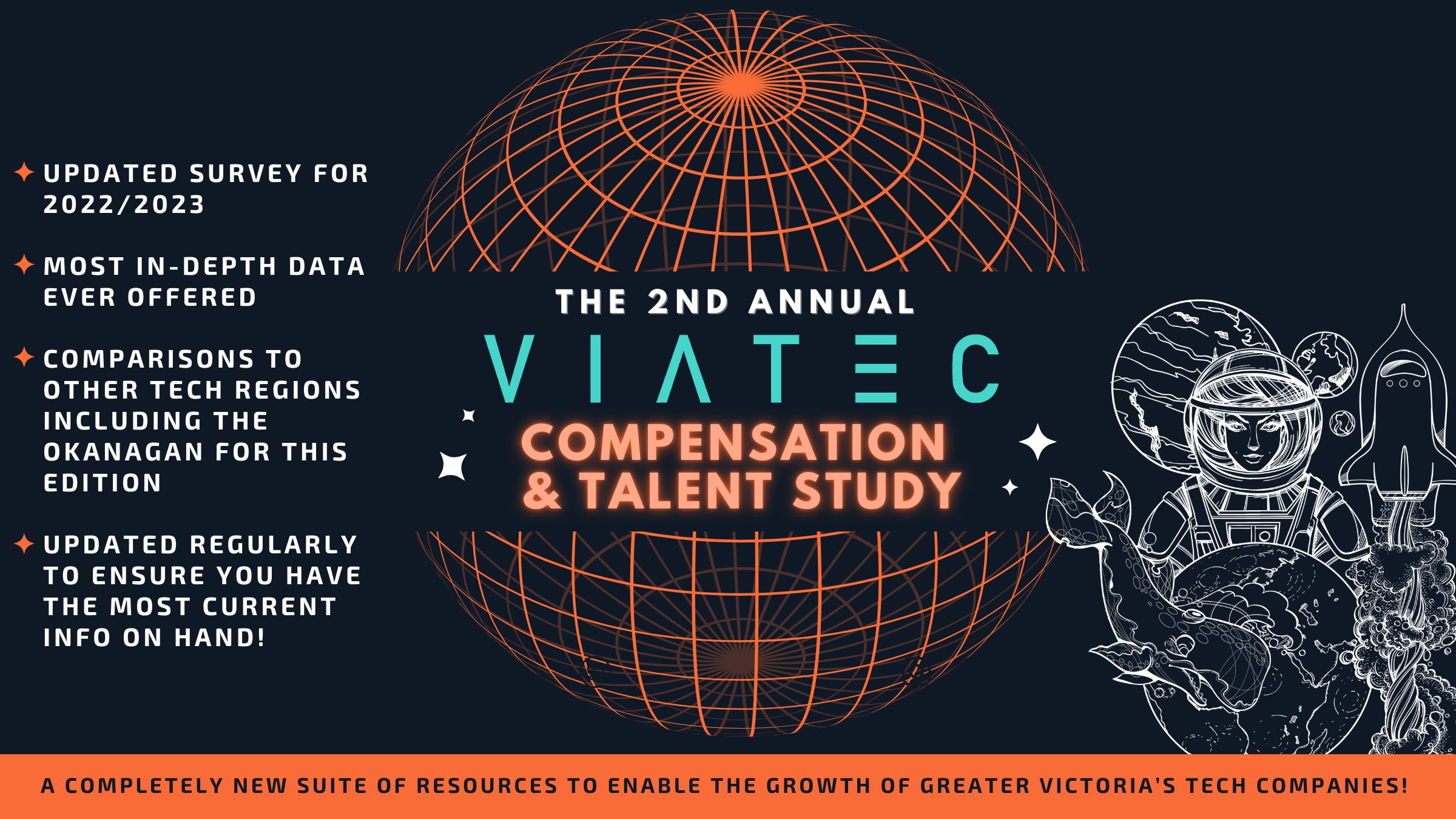 Data submission closed for 2022/23!

CURRENT SITUATION & WHAT IS NEEDED
The last year has brought dramatic changes and job market upheaval to employers and candidates alike. Our region is facing the dual challenges of a growing number of candidates considering opportunities outside of their home region, combined with companies growing rapidly and needing more talent than our region currently can provide. 
As a result, we need tools to help us understand: 1.) which unique differentiators we hold and how we must adapt to keep our skilled talent, and 2.) how we must meet the needs and expectations of out-of-region candidates during the recruitment process.
Simply put, we can't afford to lose out on skilled talent due to a lack of data.
THE SOLUTION
To meet this moment, VIATEC is working with BenchMarket to deliver the TechEdge Survey for our community. This will result in a completely new suite of compensation and talent research to address our community's needs for:
Insight into the compensation practices of other tech hubs across Canada AND a cut specific to the Greater Victoria region

Biannual data releases to keep up with the pace of compensation changes with insights into salary increases

The whole picture of employee recognition beyond compensation that accounts for non-financial benefits, wellness practices, and other human resource programs

The ability to understand how cost of living and compensation across regions are related
PRICING & WHAT'S INCLUDED
For accurate data that will enable us to grow and compete as a region, we must get input and insights from organizations of all sizes, stages, and subsectors. To enable this, we are offering subsidized pricing to all participants.
For $400*, VIATEC tech company member** participants receive the following through BenchMarket's TechEdge Survey:
Comprehensive tech sector salary survey

Published twice per year: Nov 2022 and May 2023. All new participants will receive the May 2023 salary data cut

Initially, this will include Greater Victoria, and Ontario tech hubs. VIATEC is actively working with other tech hubs across Canada to expand this survey nationally.

Includes over 100 job families, from entry levels to executive positions. 

Each Job Family matching to a NOC code, enabling comparison cost of living research

Data is segmented to allow for anonymity, while enabling as much regional and role specific differentiation as possible
7 Annual Human Resource Programs reports, segmented provincially (published annually in May)

Published in May 2023

Includes:

Wellness, Leave and Pension

Cash Bonus and Incentive Plans

Performance Management

On-call Pay

Stock Options programs

Travel Programs

Annual Turn Over Statistics

Annual complimentary reports for participating members

Salary Increase Survey

Published in October 2022
The Salary Increase Survey is limited to Ontario data only

Student Programs Survey for New Grads & Co-op Students 

Published in December 2022

(find out the going rate for co-ops and new grads from tech and business programs)

Support and advice from the Compensation experts at Benchmarket, including 1:1 help and an expert-led session to understand how to leverage the data received. Keep an eye on the event calendar!
*Great data requires openness and sharing from all organizations, participation is required to receive the survey data.
**Unlike other salary survey offerings, BenchMarket's TechEdge survey is exclusively designed for tech companies. In order to maintain data privacy and ensure relevance to the tech community, the following VIATEC membership types have access to purchase and participate: Tech Org, Tech Startup, Tech Up Island, Sustaining Patron, Community Builder.
FAQ
How much am I saving with the VIATEC member deal?
To only receive the salary reports through BenchMarket normally starts at $600, and goes up to $4,000. Our members are not only saving between $200-$3,400 depending on company size, but will have the reported data customized to our regional needs, and are receiving the additional benefits of the complete suite of HR programs, salary increase, and student programs reports.
Our technology company isn't a VIATEC member, how do we participate?
Joining VIATEC as a technology company member is quick, and gives you access to job posting discounts, event discounts, industry roundtables, mentoring & connections, and much more. Learn more about a VIATEC technology company membership and join us here. 
As a non-profit with a mission of creating the most cohesive tech community in the world, we are committed to ensuring this initiative is open to all Greater Victoria tech companies to participate in order to generate excellent data. While our special pricing agreement with BenchMarket is only available to VIATEC members, non-members are able to participate in this initiative here.
Once we register, how do we submit our data and receive the reports?
Upon registration, you will receive access instructions from the BenchMarket team on how to submit your data.
What if our team is really busy and isn't sure if we'll have time to participate?
The BenchMarket team is able to work with participants on an individual basis and help prep submissions to make the process as easy as possible.
Where can we get extra information?
If you are a VIATEC member, log into the Info Hub and visit the "Resources" tab where you'll find a folder containing a video walkthrough, presentation deck, and other aides to help with your submission. If you aren't a VIATEC member, or have additional questions, contact info@viatec.ca